This is a Sponsored post written by me on behalf of Carton Smart. All opinions are 100% mine.
Just recently I learned about a great new product, Tetra Pak cartons! Now some of your favorite foods, vegetables, stocks, etc can be found in these cartons instead of cans! I just received some from Pacific Foods to try them out to see what I think. I can't wait to Become Carton Smart.
I received Organic Chicken Stock, Organic Pumpkin Puree, and Organic Jellied Cranberry Sauce to review.
I was so excited to get these and I love the concept of these as I really hate canned goods. Most of the time there is a metallic taste from the cans, and now with these great Tetra Pak cartons, that taste is gone! There are so many great things I like about these! They are easy to stack in the cabinet and to see what you have, also, they are great to store what you don't use!! You can use some and then just put it in the fridge and use the rest later on, no more waste or no more getting out a bowl to put the rest away.
This is how you open a Tetra Pack Carton, undo the sides, and unfold. Then squeeze all four corners together, and tear along the perforated line.
Then you can just pour out your contents!
Here's some great facts about Tetra Pak:
• Tetra Pak® cartons are made of 70% paper, a renewable resource, from selectively harvested, re-grown trees that are FSC-certified (Forest Stewardship Council)
• Cartons use 1/3 of the packaging compared to cans…or even an egg!
• Cartons are space saving, easy to store and open. Keep your pantry neat and toss your can openers. , stackable and space saving.
• The unique packaging process preserves the flavor and nutrients of food without the use of preservatives.Product quality is exactly the way it was intended to be.
• Recycleable and in fact result in 60% less landfill waste than cans
• Cartons are re-closable so you can use what you need and save the rest for later.
I can definitely attest to the fact that the food in these taste better than canned. I LOVE jellied cranberry sauce, even the kind in the can, and let me tell you, this one I tried out of the carton was GREAT!! It tasted so much better! A plus too, is it's a rectangle shape, now you don't have to worry about your cranberry sauce rolling around!
With the upcoming holidays and all the dishes that are made from Pumpkin Pie, to Green Bean Casserole, to a yummy Cranberry Loaf, you can swap out the canned ingredients for the new Tetra Pak cartons and your food will taste so much better!
I love Pumpkin Pie, I could eat it year round, and I make a wonderful Pumpkin Pie every year, this year I plan on using Pacific Foods Organic Pumpkin Puree to make my pie with. I can't wait to taste it, I KNOW it will taste better.
Check out this great infographic for more info!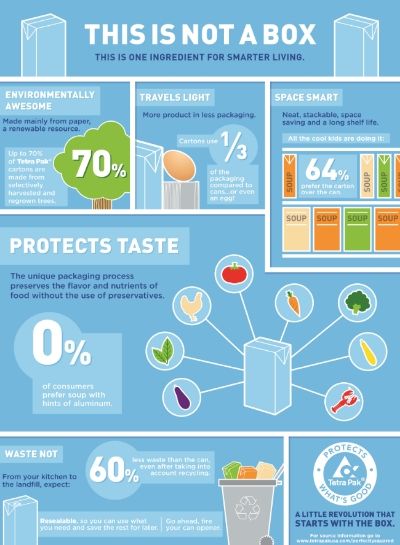 Make sure youFollow #CartonSmart on Pinterest and Tweet @CartonSmart you can be #CartonSmart too. Clean out your pantry and replace your items with the new space-saving cartons!
How can you be #cartonsmart???