This is a Sponsored post written by me on behalf of P.F. Changs. All opinions are 100% mine.
P.F. Chang's is a great place to eat with the family or friends! At P.F. Chang's guests are surrounded by a unique, modern environment combining influences of Asian and American cultures evident from the décor through the menu. From classic favorites to seasonally-inspired fare, P.F. Chang's offers a delicious array of hand-crafted dishes, desserts and cocktails.
P.F. Changs has a ton of great dishes, my favorite is Chang's Chicken Lettuce Wraps, they are so good! If you haven't had them you need to try them out! A couple other favorite dishes of mine are Mongolian Beef and Chang's Spicy Chicken.
You need to take a break this Holiday season and stop by P.F. Chang's to enjoy a yummy appetizer (such as the lettuce wraps) and meal. While there, pick up some gift cards for all of your family, friends, and colleagues.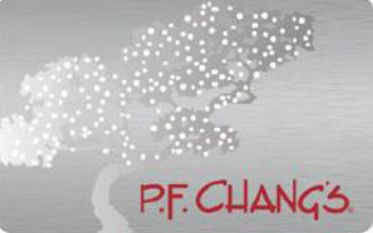 P.F. Chang's has a really great deal on gift cards for the holidays right now. If you purchase $100 in gift cards, you will receive a bonus $20 gift card to spend on yourself!! That's an awesome deal, I know I will be stopping by our local P.F. Chang's to take advantage of it.
Make sure to Follow @pfchangs on Twitter and also Follow P.F. Chang's on Pinterest.
Will you be stopping by to take advantage of the deal? Who is in your inner circle that is most deserving of a P.F. Chang's gift card?