This is a Sponsored post written by me on behalf of CVS. All opinions are 100% mine.
I've had sensitive teeth for as long as I can remember, it's always so painful when I eat or drink anything cold, especially ice cream. I know there are quite a few people, like my husband who go through a lot of pains with cold or hot foods and drinks, and he actually can't even drink anything if it has ice in it. A few months ago my husband and I actually discovered Sensodyne® toothpaste, after using it for just a week we both noticed we could eat or drink anything without any shocking pains. It is now a permanent product in our household.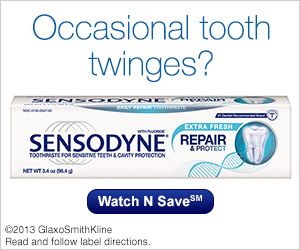 Sensodyne® Repair and Protect can actually heal your sensitive teeth, repairing the protective layer and preventing pain. If you have any type of sensitive teeth issues, I highly recommend checking out Sensodyne® Repair and Protect toothpaste. Go to the website at CVS and watch an educational video to receive your $1 off coupon, then share that video with your friends to receive a $1.50 off coupon. With savings from CVS you can afford to feel better. Enjoy your favorite foods and drinks again with Sensodyne® Repair and Protect.